Juvéderm Injections
Minimal volume in the facial skin and tissues contributes to your appearance. Whether you naturally have thin lips or your skin has lost elasticity with age, facial fillers can be the solution to achieve your aesthetic goals. Juvéderm® products use hyaluronic acid to add volume under the skin to create beautiful results. At Maia Plastic Surgery, we are proud to offer Juvéderm injections to add alluring volume to your face at our locations in the Washington, D.C., area.
Juvéderm products contain hyaluronic acid (HA), which collects moisture under the skin to add the desired volume. Juvéderm products use proprietary Vycross® technology which cross-links HA molecules, a technology that creates smoother, more natural results. Vycross technology cross-links HA molecules to create a smooth, and efficiently cross-linked filler. Juvéderm products come in a variety of formulas that can be used in various areas, including the lips, chin, cheeks, tear troughs and under various lines or wrinkles. Juvéderm hyaluronic acid filler is also reversible, which is a desirable trait for many of our patients.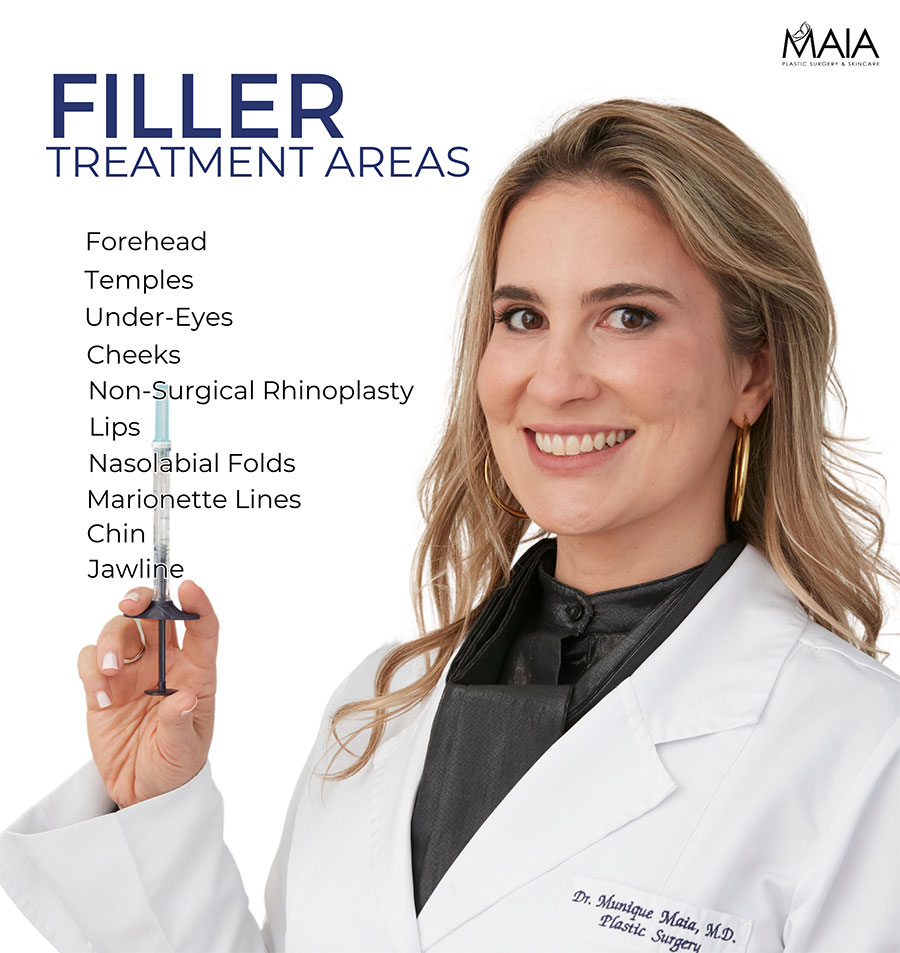 Top Dermal Filler Formulas
Juvéderm fillers are among the most requested cosmetic injectables we offer at Maia Plastic Surgery. The smooth gel formulas can create almost instant results and the treatments can last for several months or longer. The injections include a small amount of lidocaine which numbs the area to help eliminate discomfort from the treatment. Our Juvéderm injection options at Maia Plastic Surgery include:
From plumping thin lips with Volbella to reshaping the chin or cheeks with Voluma, you can receive the Juvéderm treatment you desire at Maia Plastic Surgery & Skincare. Dr. Maia and our aesthetic team can help you choose the right filler product to achieve the desired outcome. Treatment with Juvéderm injections can be performed in 15-20 minutes at our clinics. There is no downtime needed and most patients have minimal swelling or bruising from the injections.
If you are considering Juvéderm treatment to improve your appearance, come see our expert aesthetic team at Maia Plastic Surgery. Contact our Tysons, VA, or Chevy Chase, MD, office to schedule a Juvéderm treatment consultation.