Rediscover Your Confidence with a Mommy Makeover at Maia Plastic Surgery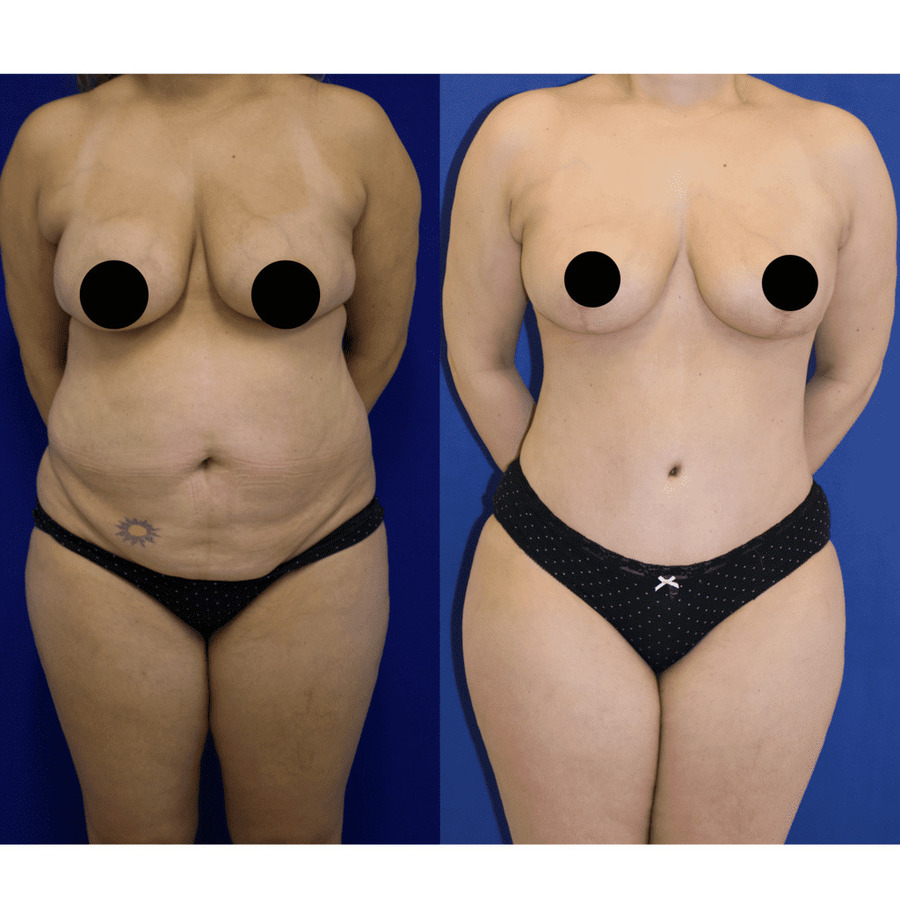 46 year-old mother of 2 before and after her Mommy Makeover (abdominoplasty with muscle repair, breast implant removal and lift, and liposuction of axillary rolls, flanks, and lateral chest)
See Mommy Makeover Before & After Gallery
Pregnancy and motherhood are beautiful life experiences that bring immense joy, but they can also bring changes to a woman's body that impact her self-confidence. At Maia Plastic Surgery, led by renowned plastic surgeon Dr. Munique Maia, we understand that every woman's body is unique and that regaining your pre-pregnancy shape is often a journey that requires a little extra support. That's where our Mommy Makeover procedures come in – a personalized combination of cosmetic surgeries designed to rejuvenate and restore your body, helping you embrace your newfound identity while feeling confident and beautiful.
Dr. Maia is a female, board-certified, Harvard-trained plastic surgeon in Tysons Corner, Virginia, specializing in Mommy Makeovers. She advocates for women's empowerment and wellness.
What is a Mommy Makeover?
A Mommy Makeover is a comprehensive and tailored approach to body rejuvenation that addresses the specific concerns many women face after pregnancy, childbirth, and breastfeeding. This transformative procedure is not a one-size-fits-all solution; instead, it's a combination of surgical techniques carefully chosen to suit your individual needs and goals. Dr. Munique Maia's extensive experience in plastic surgery ensures that your Mommy Makeover will be thoughtfully designed to target areas of concern and deliver results that harmonize with your natural features.
Personalized Approach
At Maia Plastic Surgery, we believe that the key to a successful Mommy Makeover lies in personalization. During your initial consultation, Dr. Maia will take the time to listen to your concerns, aspirations, and desires. This detailed conversation allows her to understand your unique body characteristics and develop a customized treatment plan that may include procedures such as:
Breast Enhancement: Pregnancy and breastfeeding can lead to changes in breast volume, shape, and position. Whether you're considering a breast lift, augmentation, reduction, or a combination of these procedures, Dr. Maia's expertise ensures that your breasts will be rejuvenated to achieve a balanced and youthful contour.
Tummy Transformation: The abdominal area often undergoes significant changes during pregnancy, resulting in loose skin and weakened muscles. A tummy tuck, also known as abdominoplasty, can tighten the abdominal muscles and remove excess skin, revealing a smoother and firmer midsection.
Body Contouring: Stubborn pockets of fat that resist diet and exercise can be a common concern post-pregnancy. Body contouring procedures like liposuction can target these areas, sculpting your body into the shape you desire.
Vaginal Rejuvenation: For some women, pregnancy and childbirth can lead to changes in the vaginal area. Dr. Maia offers vaginal rejuvenation procedures to enhance both aesthetic appearance and functional well-being.
Mommy Makeover Consultation Process
Your journey towards regaining your confidence begins with an in-depth consultation at Maia Plastic Surgery. During this time, you'll have the opportunity to openly discuss your goals, concerns, and any questions you may have. Dr. Maia's empathetic approach ensures that you feel comfortable and well-informed every step of the way. She will thoroughly explain the procedures that are best suited for your needs, outline the expected outcomes, and address any potential risks.
The Maia Plastic Surgery Difference
What sets Maia Plastic Surgery apart is not only Dr. Munique Maia's exceptional skill and experience but also her dedication to providing a supportive and compassionate environment. Our team understands that the decision to undergo a Mommy Makeover is a significant one, and we are committed to walking alongside you throughout your transformation journey. From the initial consultation to post-operative care, our goal is to ensure your experience is seamless and positive.
Reclaim Your Confidence
Motherhood should never mean sacrificing your self-esteem. At Maia Plastic Surgery, our Mommy Makeover procedures are designed to empower you to feel confident, vibrant, and proud of the body that brought life into this world. Dr. Munique Maia's expertise, combined with her understanding of the unique challenges women face, make her the ideal partner for your journey towards rejuvenation and self-discovery.
Mommy Makeovers Are Not Just for Moms!
At Maia Plastic Surgery, we believe that the benefits of a mommy makeover extend beyond just mothers. Our customized mommy makeover procedures are thoughtfully designed to rejuvenate and enhance your body, helping you achieve your aesthetic goals, regardless of your stage in life. We understand that life's natural processes and changes can impact anyone, not just mothers, and our expert team is here to guide you on your journey to renewed confidence and self-assurance. Through a combination of advanced surgical techniques and personalized care, our mommy makeover procedures address various concerns, such as stubborn fat deposits, loose skin, and muscle laxity. Experience the transformative power of our tailored approaches, allowing you to embrace the version of yourself that you desire, whether you're a mom, someone who's experienced significant weight fluctuations, or simply looking to enhance your appearance.
Contact Maia Plastic Surgery Today!
If you're ready to embark on a personalized Mommy Makeover journey towards reclaiming your pre-pregnancy confidence, Maia Plastic Surgery is here to guide you every step of the way. Dr. Munique Maia's expertise, compassionate approach, and commitment to excellence ensure that your Mommy Makeover experience will be transformative, empowering, and tailored to your individual needs. Contact us today to schedule your consultation and take the first step towards rediscovering your beauty and confidence. Your transformation starts here.