Facelift Surgery in Northern Virginia
Learn about the procedure, its benefits, and why you should choose Dr. Maia for your transformation.
FACELIFT
---
Your face is an important feature that reflects how you feel inside to the world. Many of our patients tell us they look much older than they feel on the inside, and come to Dr. Maia to help balance their outward portrayal with their inner-self.
Dr. Maia is an award-winning, board certified plastic surgeon in the Washington D.C. area. She is highly skilled in the latest techniques in facial rejuvenation and facelift surgical methods. Her approach to facial rejuvenation incorporates sophisticated techniques to enhance the cheeks, sculpt and tighten the lower face, jawline and neck. She utilizes deep layer and Deep Plane Facelift techniques, which give a natural look and adds longevity to the results.
Few cosmetic surgeries can have the impact of a facelift when it comes to facial rejuvenation. The face changes with age, losing its firmness and youthful contours. A facelift is designed to address sagging and lost firmness in the lower face and upper neck, erasing years from your appearance. At Maia Plastic Surgery, our mission is to enhance your natural beauty with state-of-the-art surgical techniques and the latest non-surgical treatments.
---
WHO IS A GOOD CANDIDATE?
A surgical facelift is often the appropriate procedure for women or men who are bothered by excess skin, drooping cheeks and jowls. Modern facelift techniques aim to restore the deep facial tissues to their original position while avoiding the operated-on or "fake" look. You can expect to look more rejuvenated and refreshed without the tell-tale signs of a traditional facelift. Dr. Maia elevates both the skin and tissue to a more youthful position to avoid a stretched, tight or unnatural appearance.
---
Facelift & Neck Lift
(Custom Facial Rejuvenation)

Facelift & Neck Lift
(Custom Facial Rejuvenation)

Male Facelift, Neck Lift & Chin Augmentation
(Custom Facial Rejuvenation)
---
BENEFITS OF FACELIFT SURGERY
✔ Very natural results without an "over pulled" look.
✔ The scars are discreet. No one will ever know you had a procedure done.
✔ This technique is customizable and can be adjusted to different face shapes with varying amounts of fat and laxity of skin & muscle.
✔ This facelift technique provides an excellent long-term result (about seven to 12 years) with a low risk of major complications.
---
PROCEDURE SUMMARY
Pain Level After Surgery: Moderate discomfort controlled by medication
Anesthesia: General or local anesthetic with oral sedation
Duration of Surgery: 4-5 hours
Scars: Starts above the ears and extends around the ears, into the hairline in the back, and under the chin
Downtime: 2 weeks
Return to Regular Activity: 4-6 weeks
Resume Exercise: 6 weeks
Price Range: $12,000 – $24,000. Call for more details
---
WHAT TO EXPECT
Dr. Maia uses cutting-edge techniques to carefully elevate the skin and underlying tissues to tighten and firm the lower face with the facelift procedure. This can smooth deeper lines and folds in the skin and create a more youthful look to the face. The facelift operation is safe and well-tolerated by patients. Discomfort is minimal and recovery is rapid for most patients. Some degree of bruising and swelling is to be expected. This will resolve in 7-10 days. Activity is limited in the first week following surgery, avoiding strenuous activity for four weeks. Most patients return to work after two weeks.
Dr. Maia utilizes a comprehensive approach to facial rejuvenation. If you are not ready for surgery, you might benefit from non-invasive treatments. Many patients can improve the signs of aging with Botox®, injectable fillers, microneedling and chemical/laser peels. These treatments can also be done in combination with facelift surgery. During your consultation, Dr. Maia will analyze your face, discuss your goals and recommend a customized treatment plan to achieve your desired look.
---
WHY SHOULD I CHOOSE DR. MAIA FOR MY FACELIFT?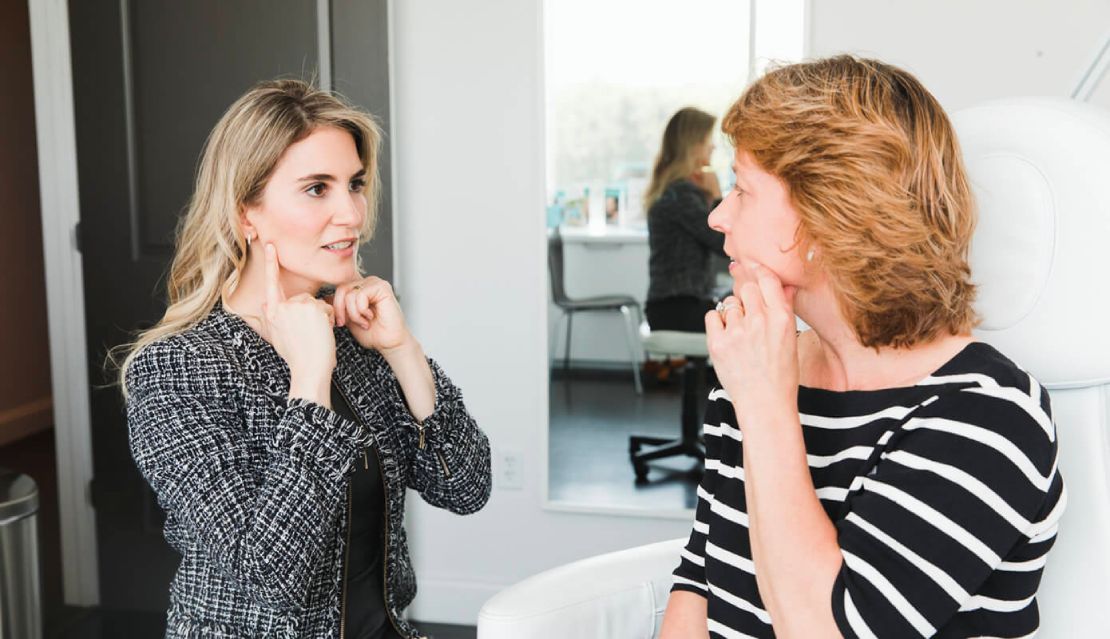 With Dr. Maia, your journey toward a revitalized appearance is guided by a fusion of medical expertise and compassionate care. The Deep Plane Facelift, under her adept hands, goes beyond superficial changes, focusing on lifting and tightening sagging tissues at a foundational level. Dr. Maia's deep understanding of facial anatomy allows her to create results that stand the test of time, unveiling the inherent beauty that lies within, while maintaining the authentic essence of each patient.
If you are ready to explore facelift surgery to rejuvenate the lower face and neck but you want to ensure natural results, contact us at Maia Plastic Surgery in Tysons Corner, VA, to schedule your facelift consultation. We look forward to helping you look your best at every stage of your life. Dr. Maia has the experience and credentials you will want when choosing your plastic surgeon.