Saline Deflation: Restore Comfort and Confidence with Maia Plastic Surgery in Washington D.C.
Are you experiencing discomfort or dissatisfaction with your saline breast implants? Maia Plastic Surgery, located in the heart of Washington D.C., offers professional and compassionate saline deflation services to help you regain comfort and restore your confidence.
Why Choose Saline Deflation?
Saline breast implants have long been a popular choice for women seeking breast augmentation. However, over time, some individuals may find that they are no longer satisfied with the size, shape, or overall feel of their implants. This can lead to discomfort, self-consciousness, or even physical pain.
Saline deflation, also known as saline implant removal, offers a safe and effective solution for those seeking to remove their saline breast implants. This procedure involves carefully deflating the implants, allowing the body to naturally absorb the saline solution and return to its pre-augmentation state.
Why Trust Maia Plastic Surgery?
At Maia Plastic Surgery, we understand the emotional and physical challenges associated with breast implant concerns. Our board-certified plastic surgeon, Dr. Munique Maia, is highly experienced in performing saline deflation procedures with precision and care.
Personalized Approach and Comprehensive Care
We believe in a personalized approach to every procedure we perform. When you choose Maia Plastic Surgery for your saline deflation, you can expect:
Expert Consultation: During your initial consultation, our skilled plastic surgeon will listen to your concerns, thoroughly evaluate your medical history, and discuss your desired outcomes. They will explain the saline deflation procedure in detail and answer any questions you may have.
Customized Treatment Plan: Based on your unique goals and individual circumstances, Dr. Maia will create a tailored treatment plan that addresses your specific needs. They will recommend the most appropriate technique and provide you with all the information you need to make an informed decision.
Experienced Surgeon: With years of experience and a commitment to staying at the forefront of plastic surgery advancements, Dr. Maia will perform your saline deflation procedure with utmost precision, ensuring the best possible outcome.
Patient-Centric Care: At Maia Plastic Surgery, your comfort and well-being are our top priorities. We provide a warm and welcoming environment where you can feel at ease throughout your entire journey. Our friendly staff will guide you through the process, from pre-operative preparation to post-operative care and follow-up visits.
Natural-Looking Results: Dr. Maia has a keen eye for detail and strives to achieve natural-looking results. Whether you choose saline deflation as a standalone procedure or as part of a comprehensive breast enhancement plan, our goal is to help you feel more comfortable and confident in your body.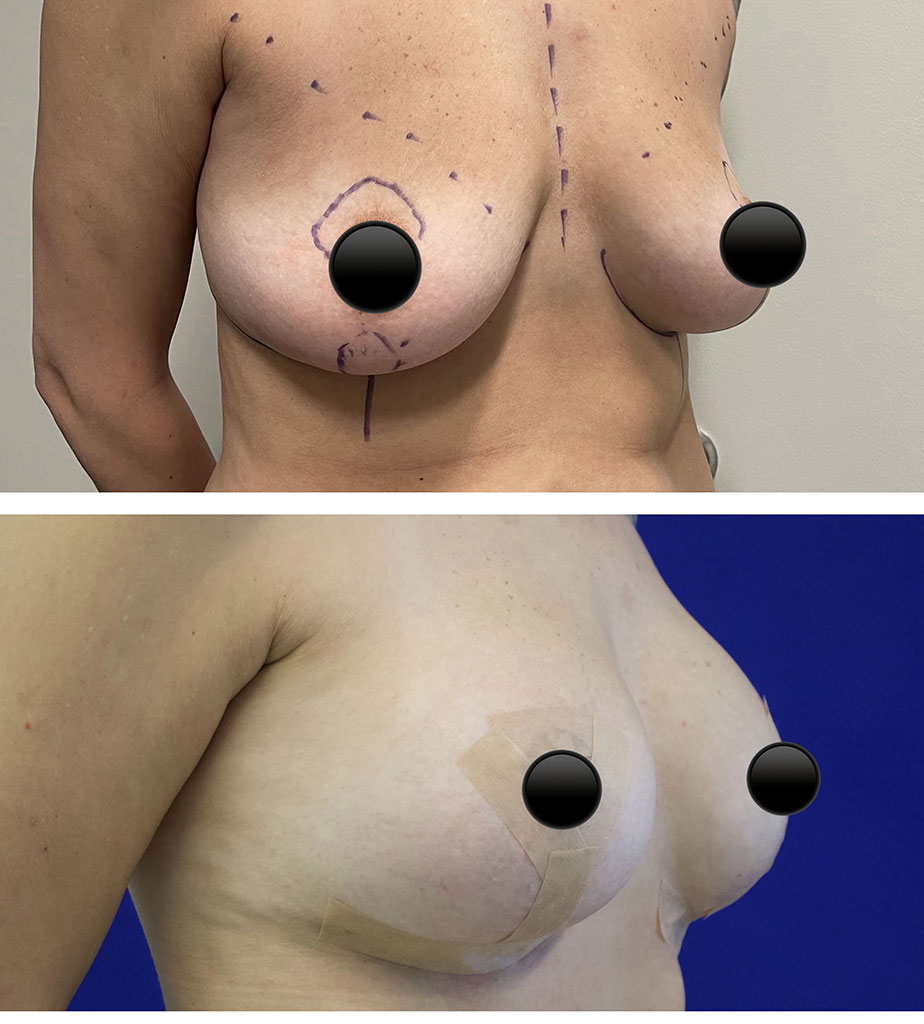 Saline Deflation in Our Office
Saline deflation can typically be performed in our clinic. Under the guidance of Dr. Maia, a small incision is made, and the saline solution is carefully extracted from the breast implants. The process is generally safe and well-tolerated, offering individuals an opportunity to adjust their breast size to better align with their preferences.
Regain Your Comfort and Confidence
If you're experiencing discomfort or dissatisfaction with your saline breast implants, it may be time to consider saline deflation. Maia Plastic Surgery in Washington D.C. is here to guide you through the process and help you make an informed decision. Contact us today to schedule your consultation and take the first step toward restoring your comfort and confidence.