TUMMY TUCK (ABDOMINOPLASTY)
---
The abdomen is one of the most common body areas that change as you get older. Weight gain and pregnancy, combined with genetics and lifestyle, can all impact the tone and appearance of your stomach. Both men and women can struggle to reshape and flatten their abdomen. Tummy tuck plastic surgery is a group of procedures that can remove excess skin, fat and tissue from the midsection and tighten the abdomen muscles and skin. Our team at Maia Plastic Surgery offers a variety of tummy tuck options for patients at our clinic in Tysons Corner, VA.
Dr. Munique Maia is a highly respected plastic surgeon who has built her excellent reputation on providing natural-looking, flattering results for her patients. Fellowship trained and board certified, she has the experience and expertise you want when considering any type of plastic surgery. If your abdomen is flabby and sagging due to loose skin, excess fat and stretched muscles, you should consider Dr. Maia as the right tummy tuck plastic surgery to reshape, flatten and tighten your midsection.
---
46 year-old Patient
Tummy Tuck, Breast Lift & 5 Areas of Liposuction
(Customized Body Contouring Treatment)
---
I feel much more confident and motivated to work out
"I'm a lot more positive about myself and have learned to love my body again..."
-P.K., Tummy Tuck Patient
Read Full Review Here
Dr. Maia and her staff put my fears to rest
"I was back at work two weeks later and could not be happier with my results.…"
-C.S., Tummy Tuck Patient
Read Full Review Here
---
WHO IS A GOOD CANDIDATE?
If you have excess skin and fat below the belly button, then tummy tuck surgery may be the right option for you. The skin and muscles of the abdomen can stretch during pregnancy or when anyone gains excessive weight. In some cases, the skin and muscles refuse to contract back to their previous state when excess weight is lost. Whether you have birthed children or lost a significant amount of weight, you may desire plastic surgery to reshape and tighten your midsection
---
Procedure Summary
Pain Level After Surgery
Moderate discomfort controlled by medication
Anesthesia
General
Duration of Surgery
3-4 hours
Scars
On the bikini line; Lower abdomen, from hip to hip, and around the belly button
Downtime
2-3 weeks
Return to Regular Activity
4-6 weeks
Resume Exercise
6 weeks
Price Range
$15,000-$30,000. Call for more details.
THE BENEFITS OF TUMMY TUCK SURGERY
Natural-looking results: Dr. Maia carefully designs your belly button to best flatter your unique proportions
Patients report higher confidence and body-image after recovery. In addition, people are more inclined to be active to maintain their results after recovery.
The scars are discreetly hidden on your bikini line
This procedure can restore a weakened core by tightening abdominal muscles, leading to better posture and in some cases, relieving back pain
---
---
PROCEDURES OFFERED TO TIGHTEN AND RESHAPE YOUR MIDSECTION
You can have a flatter, tighter abdomen again after weight loss or post-pregnancy. Some of the procedures we offer at Maia Plastic Surgery include:
---
WHAT TO EXPECT
You will be greeted by our friendly staff and escorted to an exam room by our patient consultant. We'll learn more about you and your desires and show you before and after photos of other patients who have had a tummy tuck and any other procedure(s) you are interested in. We will discuss your goals and a brief summary of the treatment options.
You'll then meet with Dr. Maia who will listen carefully to your concerns and expectations. She will then examine you and give you her professional recommendation and a treatment plan to achieve your desired result.
After that, your patient consultant will take you to another room and go over the fees and surgical dates available.
DURING THE PROCEDURE
During surgery, a horizontal incision is made from approximately hip bone to hip bone, and a small incision around the belly button. Total incision length and shape depends on the amount of excess skin. Dr. Maia will then remove excess skin and soft tissue and repair or tighten the abdominal muscles.
Tummy Tuck can also be combined with liposuction around the flanks and hips to give you a lean appearance with natural-looking contours. If you have stretch marks and scars from prior surgeries, such as a caesarean section or appendectomy, Dr. Maia may be able to arrange your skin and tissue to eliminate them. Sutures, clips, tape, and/or skin adhesives may be used to secure the incisions together.
RECOVERY
Tummy tuck is usually an outpatient procedure, and patients go home a few hours after surgery. Because a tummy tuck involves surgery on the abdominal muscles, recovery can take more time than other procedures. Discomfort and mild pain are to be expected during the first week or so. Light walk around the house is encouraged to maintain healthy circulation.
Before and after the procedure, Dr.Maia and the team will give you detailed instructions for keeping the area clean and well-maintained for proper healing.
Recovery tips:
Take time off! Clear off your schedule for the next 2-3 weeks before returning to work.
Adjust your sleeping position to avoid putting tension on your stomach. Prop yourself up with pillows or settle into a reclining chair.
Go for light walks! Gentle movements are your friend and can speed up your recovery and minimize the complications.
Be patient! Tummy tuck results don't appear overnight. It will take time for swelling to subside.
---
WHY SHOULD I CHOOSE DR. MAIA FOR MY TUMMY TUCK?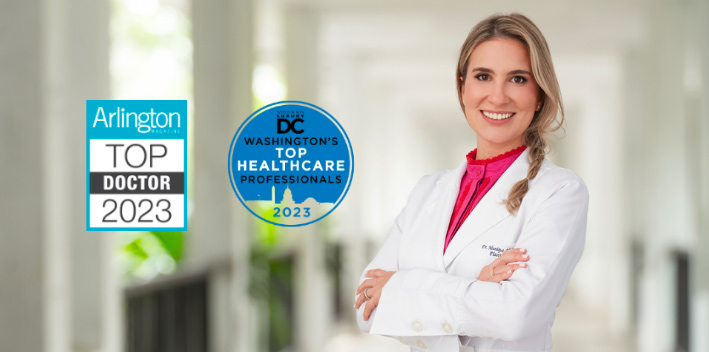 Dr. Maia is a renowned plastic surgeon and has earned a stellar reputation as one of the top plastic and cosmetic surgeons in the DC area, offering a compassionate approach and creating stunning, natural outcomes for her patients. Not only is she incredibly skilled at her craft, but her professionalism and ability to put her patients at ease is exceptional.
Board-certified Harvard fellowship-trained plastic surgeon

15 Years of Experience

Meticulous attention to detail and incredible results

Minimal scarring and minimal downtime

Friendly environment and all female staff