Plastic Surgery with

Natural-Looking

Results

At Maia Plastic Surgery, our goal is to help patients become the best version of themselves. Dr. Munique Maia is a Harvard fellowship trained and board certified plastic surgeon who is known for achieving incredible, natural-looking results for her patients. Whether you want to look more like your younger self or reshape your body's silhouette, you can trust the expertise of Dr. Maia and our team to achieve the results you desire.
DR. MUNIQUE MAIA

State-of-the-Art Techniques
Dr. Maia specializes in aesthetic surgery of the face, breast and body. She has devoted her professional life to master the latest surgical techniques in plastic surgery.
Dr. Maia is committed to achieve your aesthetic goals with state-of-the-art plastic surgery procedures and innovative non-surgical treatments.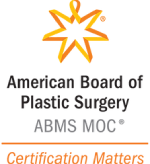 Facelift + Necklift

Facelift + Necklift

Blepharoplasty (Eyelid Lift) + Neck Liposuction
Natural Looking
Face and body plastic surgery with natural-looking results is what we offer at our clinic near Washington, DC in Tysons Corner, VA. Our patients have praised Dr. Maia for her attention to detail and meticulous artistry when performing cosmetic surgery and treatments. When the most advanced techniques are used, the results can look completely natural, never overdone or obvious. The goal is to create a new look that does not appear surgical or fake, a skill that Dr. Maia has mastered in her many years as a plastic surgeon.
Dr. Maia talked to FOX5 about the most common plastic surgery procedures.
Dr. Maia in Washingtonian Magazine
Washingtonian Magazine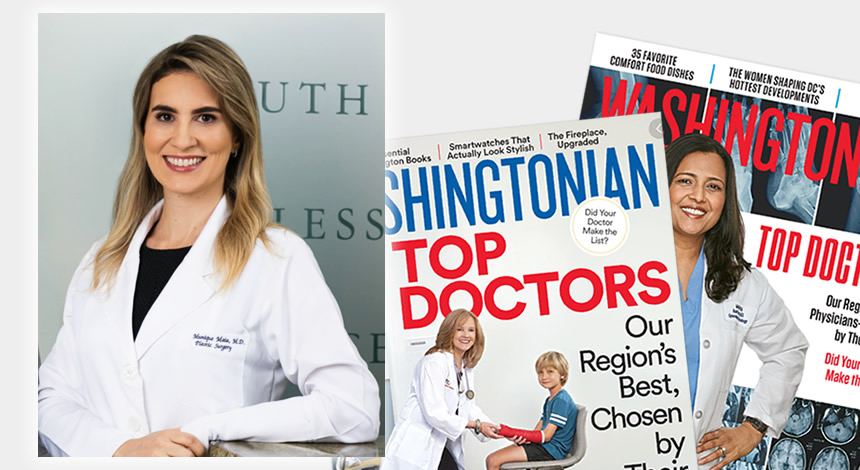 Dr. Maia is recognized as a Washington DC Health and Beauty Expert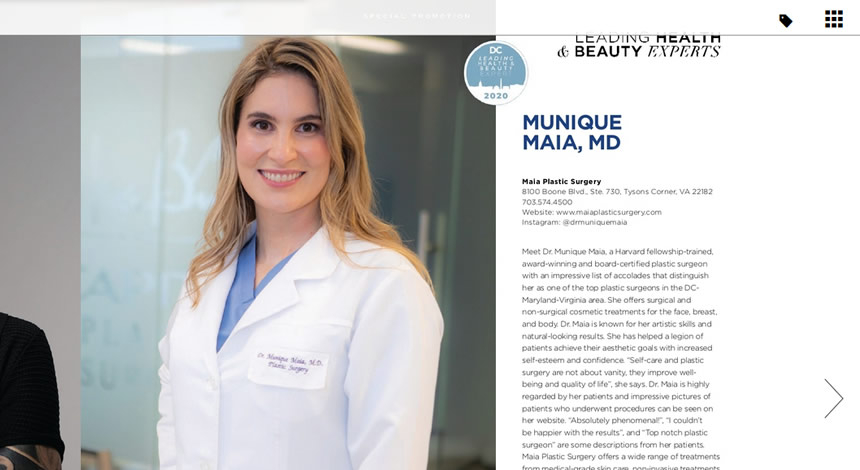 Dr. Maia is featured in the Washingtonian as a top plastic surgeon in the DC area.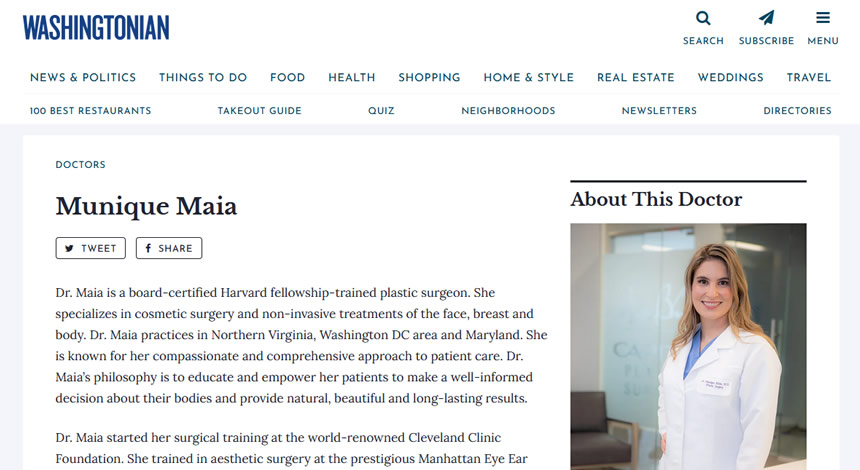 Breast Augmentation and Body Transformations
Dr. Maia is one of the top mammaplasty, or breast cosmetic surgery, specialists in the greater Washington, DC, area and beyond. Our patients are ecstatic about the results of their breast augmentations, breast lifts and other breast procedures. Dr. Maia is known for her natural-looking breast augmentations that create a beautiful shape and silhouette. In addition, we offer a full spectrum of body transformations at our clinic, including tummy tucks, arm lifts, body lifts and various types of liposuction procedures.
Facelifts, Blepharoplasty (Eyelid Lift) and Rhinoplasty
Facial rejuvenation and feature reshaping can help you feel more confident in your appearance. Whether you want to reshape your nose with rhinoplasty or give your face a more youthful look with a facelift, neck lift or brow lift, Dr. Maia is highly respected for her skills and artistic talent in facial cosmetic surgery. The goal is always to retain your unique appearance while enhancing facial features. We offer eyelid lifts, including upper and lower blepharoplasty and many other facial procedures to help you become the best version of yourself.
Medical Spa and Non-Surgical Procedures
Not every face or body transformation needs to involve surgery. At Maia Plastic Surgery, we offer both surgical and non-surgical cosmetic treatments. Our team utilizes the latest cosmetic procedures to help patients look their best at any age, from facial fillers and other cosmetic injections to other med spa treatments. Non-surgical procedures can be used as an alternative to cosmetic surgery or in conjunction. We offer a wide variety of skin treatments and non-surgical procedures to help our patients look their best at every stage in their lives.
Read More
Face and Body Cosmetic Surgery in Washington, DC
If you are looking for a highly experienced and talented plastic surgeon in the Washington, DC, area, come visit us at Maia Plastic Surgery. Dr. Maia has an exceptional reputation for her artistic eye and outstanding skills as a plastic surgeon. We welcome men and women of all ages who want to explore cosmetic surgery to enhance their appearance and self-confidence. Dr. Maia is also a respected facial and pediatric reconstructive plastic surgeon that has changed the lives of many of her patients living with disfiguring conditions.
You deserve to feel good when you look in the mirror, and becoming the best version of yourself can improve your confidence and quality of life. If you are considering transforming your body or face with plastic surgery or cosmetic procedures, contact our team at Maia Plastic Surgery in Tysons Corner, VA. We will schedule a personal consultation with Dr. Munique Maia to discuss the various cosmetic procedures we offer. Call today to schedule your appointment, and begin your personal transformation.