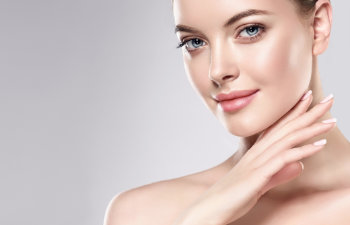 Dysport is one of the neuromodulators that utilizes botulinum toxin A, similar to Botox. It is FDA-approved for the treatment of frown lines, but it is used off-label for many cosmetic and medical purposes. For some people, Dysport is a great alternative to Botox and may have better results. Here are six of the many benefits of Dysport injections and how they can be used to improve your appearance.
1. Smooth Dynamic Lines and Wrinkles
Dynamic facial wrinkles are those that are caused by muscle movement. While some wrinkles are static and appear even when your face is resting, others are more pronounced when you make certain facial expressions. Dysport works to relax muscles that create dynamic lines to smooth away frown or worry lines on the forehead and other wrinkles.
2. Shrink Pronounced Muscles
If you have a wide jaw or pronounced neck cords, Dysport can relax these muscles and allow them to shrink over time. This can slim a wide jaw or smooth the platysma muscles that stick out on the neck when you clench your jaw. Dysport treatments can be used over and over to maintain the results if the muscles begin to become more noticeable.
3. Quick and Comfortable Treatment
Dysport injections can be performed in about 15-20 minutes. The injections are well-tolerated with little to no pain. There is no downtime required after the injections are completed – you can go back to work or your normal activities after your treatment.
4. Refine Facial Features
Dysport is a more diluted form of botulinum toxin A than Botox. This can be beneficial as it spreads more easily and is not as concentrated. This can produce a refined effect that enhances your facial features without "freezing" your expressions. However, since it does spread easily, it is important to avoid rubbing or touching the treatment areas in the 24 hours or so after the injections. You want the neurotoxin to reach the neurotransmitters of the targeted muscles and not be displaced by massaging the area.
5. Long Lasting Results
Some patients have longer-lasting results with Dysport than with Botox. In general, both last about 3-4 months before the effects begin to wear off. There are some patients that do not need another Dysport treatment for up to six months or longer. As with most cosmetic injections, the results vary from person to person – one brand of neuromodulator may work better than others depending on how your body reacts.
6. Prevention of Wrinkles
Not only can Dysport help eliminate crow's feet, glabellar lines, and worry lines, but it may help prevent future wrinkles. Keeping the muscles relaxed can stop the creasing of the skin which creates dynamic lines. Many younger individuals use small doses of Dysport or Botox to help keep their face looking smooth and wrinkle-free.
If you want to explore the benefits of Dysport or any neuromodulator, come see us at Maia Plastic Surgery. We offer Dysport and Botox injections at our clinics in Chevy Chase, MD and Tysons Corner, VA.
Posted on behalf of Maia Plastic Surgery
8100 Boone Boulevard Suite 730 Tysons Corner
Tysons, VA 22182
5530 Wisconsin Ave # 1208
Chevy Chase, MD 20815