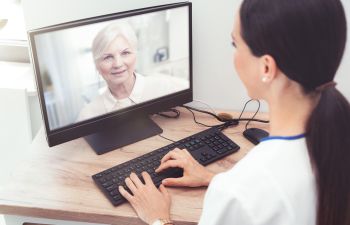 Over the course of the pandemic, many people have started to notice the signs of aging. When you have more time to scrutinize your facial features and neck, blemishes are really noticeable. If you are not overly enthusiastic about visiting a plastic surgery clinic, a Zoom consultation provides a convenient alternative.
At Maia Plastic Surgery, we want to ensure that all rejuvenation solutions suit the needs of our patients. You are an individual and deserve tailored care. Zoom calls provide our surgeon with everything she needs to recommend the most appropriate procedures.
Facial Rejuvenation
We speak to patients every day who are unhappy with one or more facial features. Options at our clinic near Washington, DC, include non-surgical facelifts, facelifts, fat transfer and lip augmentations. Subtle changes are unnoticeable and will reverse the signs of aging.
The stress caused by COVID-19 has taken a toll on all of us. If you are feeling older than your years, it is possible to undo the damage. By sculpting the facial features for a better aesthetic, Dr. Maia can help you change how you look and feel.
Plastic Surgery for the Neck
Your face can look perfect while your neck betrays your true age. Wrinkles and loose skin are an inevitable result of getting older. Unfortunately, some younger people suffer from the early onset of aging skin. You can seek solutions from Maia Plastic Surgery with clinics near DC and in Virginia.
Dr. Maia will use your time on a Zoom consultation to assess your skin type and any issues that will benefit from treatment. We offer minimally invasive options, neck liposuction and neck lifts to improve the appearance of focal points.
Zoom Consultation
With a Zoom consultation, you don't need to leave your home. This service is especially beneficial to out-of-state patients. Rather than taking the time to travel to one of our clinics, you can get recommendations in the comfort of your own home.
Call Maia Plastic Surgery today to set up a Zoom consultation. This is your opportunity to improve your facial features in a way that is convenient, effective and affordable.
Posted on Behalf of Maia Plastic Surgery
Posted on behalf of Maia Plastic Surgery
8100 Boone Boulevard Suite 730 Tysons Corner
Tysons, VA 22182
5530 Wisconsin Ave # 1208
Chevy Chase, MD 20815