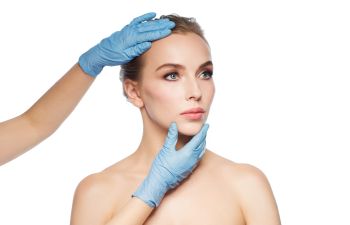 The passage of time and environmental effects like sunshine cause signs of aging to appear on the face. Your skin will naturally lose collagen as it ages, causing sagging and drooping. As the face is so active and mobile, fine lines and wrinkles appear on the forehead and around the mouth and eyes. Bad habits like smoking and poor diet can exacerbate the issue, creating an unhealthy appearance even after you have made positive lifestyle changes.
Plastic surgery has long been a solution to rejuvenate your look and restore a youthful glow to the face. However, many people are unable to undergo invasive procedures due to several factors. Many surgeries require a significant recovery period, and this could conflict with work and home commitments. Sensitivity to anesthesia or unwillingness to endure the pain of procedures could be off-putting. The cost associated with surgical intervention may also prove prohibitive.
A World of Possibilities Without Surgery
At Maia Plastic Surgery, we offer several non-surgical treatments that will lift and rejuvenate your face. A surgical facelift works by pulling back the skin to restore firmness and remove wrinkles, while also addressing excess tissue. Non-surgical facelifts achieve a similar effect through a combination of skin tightening treatments, filler injections and micro needling.
Sunken and sagging cheeks need not undergo a cheek lifting procedure. Collagen production can be stimulated with radiofrequency waves. Filler injections add volume and reduce the appearance of smile lines. The overall texture of facial skin can be improved with our range of med spa facilities. Laser skin resurfacing restores tone to the face and removes the effects of sun damage, fine lines and age spots. A chemical peel breaks down old, tired skin cells, giving a refreshed and youthful look.
Contact Maia Plastic Surgery to Begin Your Beauty Journey
Maia Plastic Surgery takes pride in exceeding the expectations of our patients. Many of our non-surgical procedures can be completed in as little as one hour, and you will be dazzled with the results. You may even feel empowered to progress to full surgery – many of our patients use our minimally invasive treatments as a 'trial run' before taking the plunge with a facelift.
Explore your options today with Maia Plastic Surgery, operating out of Northern Virginia, Maryland and Washington DC.
Posted on behalf of Maia Plastic Surgery
8100 Boone Boulevard Suite 730 Tysons Corner
Tysons, VA 22182
5530 Wisconsin Ave # 1208
Chevy Chase, MD 20815