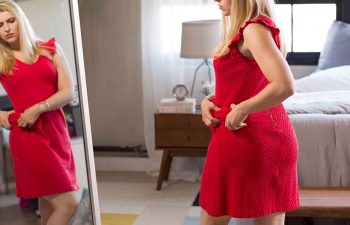 As rewarding as motherhood is, pregnancy can have a long-term impact on your body. The breasts, abdomen and even vaginal area can change, especially if you have had multiple pregnancies or children. Your genetics and lifestyle have a significant impact on how your body recovers from pregnancy and childbirth. If you are not pleased with your post-pregnancy body or recovery progress, there are cosmetic procedures to help transform specific trouble areas.
Breast Lifts or Augmentation
Pregnancy enlarges the breasts, and breastfeeding takes even more of a toll on this area of the body post-pregnancy. It is common for breasts to change after one or more pregnancies. Many women yearn to have their pre-pregnancy breasts back or decide that now is the time to consider permanent enlargement. A breast lift can remove excess skin and elevate the breast tissue for a perkier, more youthful appearance; for a larger size, breast implants can be added to the breast lift.
Tummy Tuck or C-Section Scar Revision
The abdomen goes through the most change during pregnancy. The skin, muscle and tissue are stretched, and it does not always shrink back to its previous shape. A tummy tuck can remove excess skin and tighten the muscles, tissue and skin for a flatter stomach. For some women, a C-section scar that is located too high can be an issue. During a tummy tuck, the C-section scar can usually be moved downward and hidden below the panty line.
Vaginal Rejuvenation
Pregnancy and aging can change the skin and tissue in the vaginal area. Vaginal rejuvenation to tighten and restore a more youthful appearance and feel can help some women feel more confident during intimate moments. There are surgical and non-surgical options to tighten and refresh this private area.
Post-pregnancy plastic surgery is popular for women desiring to reclaim a more youthful body shape after having children. Dr. Munique Maia is a board-certified plastic surgeon with years of experience who can create beautiful, natural-appearing results with her "Mommy Makeover" procedures like tummy tucks, breast lifts and vaginal rejuvenation. Contact us at Maia Plastic Surgery in Tysons Corner outside of Washington, DC, to schedule a private consultation to discuss your post-pregnancy body transformation.
Posted on behalf of Maia Plastic Surgery
8100 Boone Boulevard Suite 730 Tysons Corner
Tysons, VA 22182
5530 Wisconsin Ave # 1208
Chevy Chase, MD 20815