Non-Surgical Rhinoplasty near Bethesda
For non-surgical nose reshaping in the Bethesda area, turn to minimally-invasive rhinoplasty expert at Maia Plastic Surgery in Chevy Chase, MD. The nose is the central feature of the face, making it very noticeable. When there are imperfections to the shape, it can be distracting, taking away attention from your eyes, lips and other attractive features. While surgical nose reshaping is possible through rhinoplasty, there are non-surgical alternatives. At Maia Plastic Surgery, we offer non-surgical rhinoplasty as a minimally-invasive option at our medical facility in the Bethesda, MD area.
Dr. Munique Maia is a board-certified plastic surgeon who understands the importance of a well-shaped, balanced nose. When the nose is misshapen, it can impact the entire harmony of the face. For those who are not ready to commit to nose job surgery, there are cosmetic treatments to reshape certain issues in the nose structure. Using dermal filler injections, Dr. Maia can perform non-surgical rhinoplasty during an office visit with no downtime or recovery needed.
Minimally-Invasive Nose Reshaping
While dermal fillers cannot be used to make a nose smaller, they can be used to reshape the nose to hide imperfections. Some of the issues that can be altered using non-surgical rhinoplasty include:
Nose bumps (dorsal hump)
Low bridge
Droopy nose tip
Asymmetrical nose
Crooked nose
Small imperfections after rhinoplasty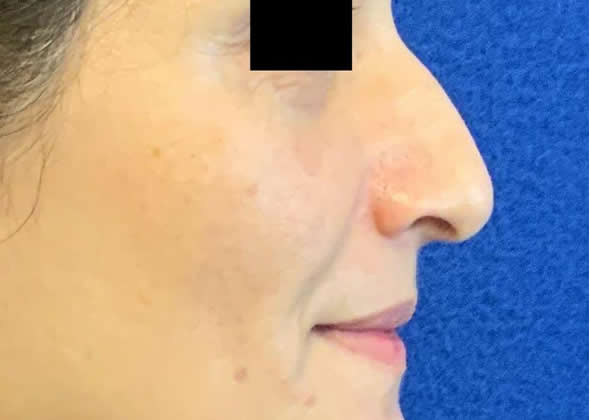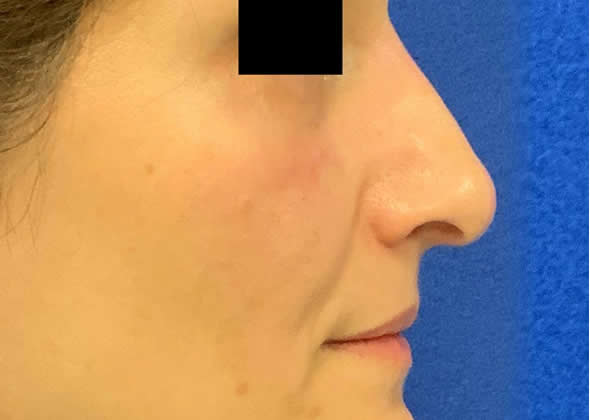 Before and After Non-surgical Rhinoplasty
Dermal fillers can be added to reshape the nose and hide certain flaws from injuries, genetics or other factors. This can be an ideal way to "try on" rhinoplasty before deciding to have surgery. Since the results are temporary, there is no risk, and you can achieve a new look for your nose the same day. The results can last for several months or longer before the treatments need to be repeated.
A non-surgical nose job can be performed in a quick visit to our clinic in the Bethesda area. To schedule your appointment with Dr. Maia for a nose reshaping consultation, contact us at Maia Plastic Surgery in Chevy Chase, MD. We offer Vectra 3-D imaging and you preview the and result before you undergo the procedure.