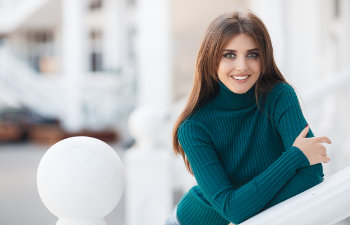 As the winter season approaches, many individuals are considering ways to enhance their appearance and revitalize their eyes without undergoing invasive surgical procedures this fall. Fortunately, there are non-surgical and surgical options available to address various concerns, from sagging eyelids to wrinkles. Here are five procedures that can help you achieve brighter, more youthful eyes this fall and help you look your best for the approaching holiday season and New Year.
1. Upper Eyelid Lift (Upper Blepharoplasty)
Upper eyelid lift, or upper blepharoplasty, is a surgical procedure designed to address sagging or drooping upper eyelids. This condition can create a tired, aged appearance. During the procedure, excess skin and, if necessary, fatty tissue are removed from the upper eyelids, resulting in a more refreshed and rejuvenated look. Upper blepharoplasty is particularly effective in improving vision obstruction caused by sagging eyelid skin. While it's a surgical procedure, recovery is relatively quick, making it an excellent choice for individuals looking for long-lasting results.
2. Lower Blepharoplasty (Lower Eyelid Surgery)
Lower blepharoplasty, or lower eyelid surgery, focuses on addressing under-eye bags, puffiness, and excess skin. This surgical procedure can help you achieve a more youthful and rested appearance. During the surgery, the surgeon removes or repositions fatty deposits and tightens the underlying tissues. This procedure can be highly effective in reducing the signs of aging around the eyes. The recovery period is generally short, with patients seeing noticeable improvements within a few weeks.
3. Botox
Botox, a non-surgical cosmetic treatment, has become a popular choice for addressing wrinkles and fine lines around the eyes. It works by temporarily relaxing the muscles that cause wrinkles. Botox is particularly effective for treating crow's feet (lines that radiate from the corners of the eyes) and forehead wrinkles. The procedure is quick, virtually painless, and requires little to no downtime. The results typically last for several months, making it an attractive option for individuals seeking a non-invasive way to rejuvenate their eye area.
4. UPNEEQ (Apraclonidine Ophthalmic Solution)
UPNEEQ is a prescription eye drop that can help enhance the appearance of the eyes by temporarily reducing the appearance of droopy upper eyelids, a condition known as ptosis. This non-surgical treatment is a great option for individuals with mild to moderate ptosis, where the upper eyelids partially cover the eyes, affecting their overall appearance. UPNEEQ works by stimulating the muscle that lifts the upper eyelid, providing a subtle lift. The effect typically lasts for several hours, making it an ideal choice for special occasions or events.
5. CO2 Laser Skin Resurfacing
CO2 laser skin resurfacing is a non-surgical procedure that can improve the skin's texture, tone, and elasticity around the eyes. It is effective in reducing fine lines, wrinkles, and pigmentation irregularities, leading to a more youthful and vibrant appearance. The procedure involves the use of a carbon dioxide laser to remove damaged skin layers, stimulate collagen production, and encourage skin rejuvenation. While there may be some downtime associated with redness and peeling, the results can be long-lasting and well worth the temporary inconvenience.
When considering any of these procedures, it is essential to consult with a board-certified plastic surgeon who can assess your specific needs and provide expert guidance on the most suitable treatment. Dr. Munique Maia is a board-certified plastic surgeon who specializes in eye rejuvenation procedures, whether you want a non-surgical, temporary option or a more permanent solution like blepharoplasty.
Ultimately, the choice between non-surgical and surgical procedures to enhance your eyes this fall depends on your individual goals, concerns, and preferences. Some individuals may prefer the longer-lasting results of surgical options like upper and lower eyelid lifts, while others may opt for the convenience and minimal downtime associated with non-surgical treatments like Botox or UPNEEQ. Whichever procedure you choose, you can look forward to a more vibrant and youthful appearance this fall. Contact our team at Maia Plastic Surgery in the Washington, D.C. metro area today to schedule your eye-enhancing consultation with Dr. Maia.
Posted on behalf of Maia Plastic Surgery
8100 Boone Boulevard Suite 730 Tysons Corner
Tysons, VA 22182
5530 Wisconsin Ave # 1208
Chevy Chase, MD 20815