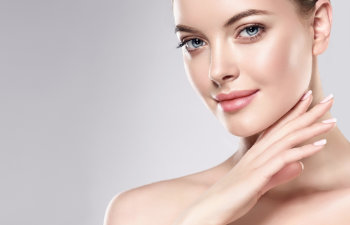 A liquid facelift is a non-surgical procedure that uses several safe and effective injections to achieve a more natural and youthful appearance. There are many ways in which a liquid facelift can be customized to your needs. You and your plastic surgeon will work together on a treatment plan to achieve the results you're looking for by targeting only the areas necessary to achieve them.
Liquid Facelift Treatments
One way your liquid, non-surgical facelift can be tailored to you is with the type of injections used. During an initial consultation, you will learn about Botox® and Sculptra® branded injections, as well as facial fillers. Each type is used to provide different results, so your plastic surgeon may recommend using more than one during your procedure.
Treatment Areas
A surgical facelift will typically focus on the lower half of the face unless you choose a deep plane facelift, which requires a much longer recovery time. However, a liquid facelift can simultaneously target many areas of the face without requiring costly or invasive surgery. You may choose to treat only one or two problem areas or many more, but the choice is yours.
Upper Face: Smooth away crow's feet and minimize wrinkles. Even frown lines can be reduced with additional volume. Correct dark circles and restore volume if needed.
Mid Face: Add volume to reduce smile lines and smooth away wrinkles. Augment cheeks for a more youthful appearance.
Lower Face: Contour the chin, jawline and upper neck while tightening sagging skin if needed. Reduce wrinkles around the mouth.
Benefits of a Liquid Facelift
The most significant benefit of a liquid facelift is that it is non-surgical with minimal downtime. You can return to your regular activities, including work, in just a few days. You can also choose the areas of your face you want to be treated and how to customize your new look. Compared to a surgical facelift, a liquid one is much more affordable.
Maia Plastic Surgery can help you achieve the natural and more youthful appearance you desire. To learn more about a liquid facelift, call us to schedule your initial consultation or book an appointment online today.
Posted on behalf of Maia Plastic Surgery
8100 Boone Boulevard Suite 730 Tysons Corner
Tysons, VA 22182
5530 Wisconsin Ave # 1208
Chevy Chase, MD 20815