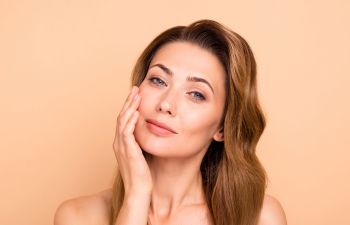 Your skin is the canvas for your facial appearance. Blemishes, scarring, sun damage, wrinkles and other flaws on your skin can impact the beauty of your face. The skin can repair and heal itself with the help of collagen induction and certain cosmetic serums. One of the newest innovations in skin enhancement is the AQUAGOLD® fine touch™ treatment, which can be customized to address your specific skin concern.
What Is AQUAGOLD fine touch?
Microneedling has been used for many years as a way to stimulate collagen and skin repair. The method uses tiny needles to penetrate the skin, triggering a healing response and collagen production without damaging the skin. AQUAGOLD fine touch takes this technique further, using even thinner needles or channels – these are finer than a human hair. These gold-plated needles are microchannels that not only penetrate the skin but deliver serum into the deeper layers. The device can deliver over 2,000 microinjections per minute, without any downtime. Since the microchannels are plated with gold, there is minimal risk of a reaction or irritation from the microinjectors.
Personalized Skin Care Treatments
AQUAGOLD fine touch treatment can be tailored to each patient to create a personalized procedure to address skin concerns. At Maia Plastic Surgery, Dr. Maia and our aesthetic team can provide a skin evaluation and recommend the right combination of serums to be used with the microchannel microinjector technique. Serums may contain hyaluronic acid, amino acids, vitamins and other skin treatments that are designed to improve the appearance and health in the deeper levels of dermis.
AQUAGOLD fine touch can offer stunning results for acne, rosacea, pigmentation, enlarged pores, aging concerns and much more. The treatments can be performed in less than a half an hour without recovery or downtime required. A series of procedures is usually recommended to achieve the desired results.
If you want to explore cutting-edge skin treatments to look radiant at every stage of your life, come see us at Maia Plastic Surgery. We offer a wide selection of aesthetic treatments for healthy, glowing skin, including the AQUAGOLD fine touch procedure. Call our office in Tysons Corner, VA or Chevy Chase, MD to book your consultation or treatment.
Posted on behalf of Maia Plastic Surgery
8100 Boone Boulevard Suite 730 Tysons Corner
Tysons, VA 22182
5530 Wisconsin Ave # 1208
Chevy Chase, MD 20815