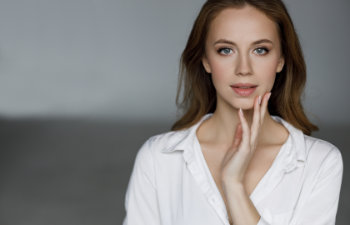 Facial filler injections can create stunning outcomes when performed by a talented injector. From fuller lips to reshaping noses and chins, when placed in the hands of a plastic surgeon or another experienced medical professional, filler injections can achieve great results. Unfortunately, not all injectors have the same skills and expertise, which can result in less desirable outcomes. If you have experienced a filler disaster, you may want to seek hyaluronidase injections.
The most popular ingredient in facial fillers is hyaluronic acid. This is a substance that collects moisture and instantly plumps under the skin. Some of the best-known facial or dermal fillers contain hyaluronic acid, including Juvederm®, Belotero®, and Restylane®. Once injected under the skin, these fillers can provide volume for six months up to two years, depending on the product.
If a hyaluronic acid injection migrates or appears lumpy, it can distort lips and other facial features. This can occur due to a variety of factors. In some cases, the injector placed too much filler or used poor techniques during the procedure. In other cases, the patient contributed to the distortion of the filler. Rubbing the area or putting pressure on the treatment spot right after the procedure can move or change the filler. This can result in an unnatural appearance that can last for several months or longer without treatment.
Reversing Hyaluronic Acid Fillers
Unlike Botox and other types of dermal fillers, hyaluronic acid treatments can be reversed. A natural-occurring substance called hyaluronidase can break down hyaluronic acid to help remove it faster from the treatment area. When injected into the area containing hyaluronic acid, the enzyme hyaluronidase can begin to dissolve the filler immediately.
Hyaluronidase injections are very effective for reversing the unwanted effects of some filler injections. In most cases, the filler is dissolved in about two days. This can "un-do" a botched lip filler treatment or liquid nose job, giving you a clean slate again. Hyaluronidase injections can be used to completely remove the filler or to create a less puffy or over-stuffed appearance.
Preventing Filler Disasters
The best way to prevent the need for hyaluronidase injections is to only use an experienced injector for treatments. Plastic surgeons like Dr. Maia are an excellent choice as they have extensive experience working with fillers and know how to complete these injections correctly. The second aspect is following the post-treatment instructions. You should be careful not to massage the area or lie on that portion of your face for at least six hours and follow all other recommendations for the best results.
You do not need to live with lumpy or overly puffy filler results. If you had a hyaluronic acid filler treatment that turned out horrible, contact our team at Maia Plastic Surgery. We offer hyaluronidase injections to fix filler disasters. Call our office in Tysons Corner, VA, or Chevy Chase, MD, to schedule an appointment.
Posted on behalf of Maia Plastic Surgery
8100 Boone Boulevard Suite 730 Tysons Corner
Tysons, VA 22182
5530 Wisconsin Ave # 1208
Chevy Chase, MD 20815