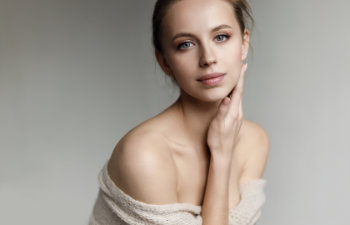 Morpheus8 is a new way to tighten and rejuvenate the skin. It uses radiofrequency energy and microneedling to make the skin firmer and smoother. The treatment is gaining popularity because of its non-invasive nature, minimal downtime and long-lasting results.
How Does Morpheus8 Work?
Morpheus8 uses a combination of microneedling and radiofrequency energy to get the body to make more collagen, which is needed to tighten the skin and make it look younger. The treatment involves the insertion of tiny needles into the skin, which deliver radiofrequency energy to the deeper layers of the tissues. The energy heats the tissue, which starts the body's natural healing process and makes the body generate more collagen. Microneedling also creates micro-injuries in the skin, further stimulating collagen and elastin production.
Morpheus8 can be customized to target different body areas, including the face, neck, arms, abdomen and thighs. The treatment is safe and effective for all skin types and can treat various skin concerns, including fine lines and wrinkles, sagging skin, acne scars and uneven skin tone.
How Long Does Morpheus8 Last?
The effects of Morpheus8 can last up to two years, depending on the individual's skin condition and lifestyle habits. Maintaining a healthy lifestyle and skincare routine is essential to ensuring lasting results. In addition, patients should avoid excessive sun exposure, smoking and other factors that can damage the skin and reduce the effectiveness of the treatment.
Morpheus8 is not a one-time treatment; multiple sessions may be required to achieve optimal results. How many are needed depends on the individual's skin condition and treatment goals. However, most people need 3–4 sessions, each about 4–6 weeks apart, to noticeably improve the texture and firmness of their skin.
Benefits of Morpheus8
Morpheus8 offers several benefits over traditional skin tightening treatments, including:
Non-invasive: Morpheus8 is a non-invasive treatment that does not require incisions or surgery, reducing the risk of complications and minimizing downtime.
Customizable: The treatment can be customized to target specific areas of the body and skin concerns, ensuring optimal results.
Minimal Downtime: Patients can return to their everyday lives immediately after treatment because there is little to no downtime.
Long-lasting Results: Morpheus8 stimulates collagen production, lasting up to two years, providing long-lasting results.
Learn More About Morpheus8
If you are interested in Morpheus8 and want to learn more about how it can benefit your skin, contact Maia Plastic Surgery to schedule a consultation. Our experienced plastic surgeon, Dr. Munique Maia, will work with you to develop a customized treatment plan that meets your needs and goals. Contact us today to get started.
Posted on behalf of Maia Plastic Surgery
8100 Boone Boulevard Suite 730 Tysons Corner
Tysons, VA 22182
5530 Wisconsin Ave # 1208
Chevy Chase, MD 20815