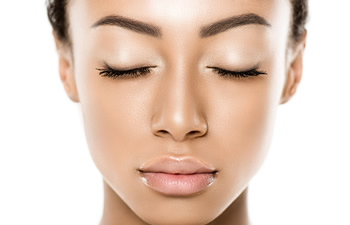 The first sign of aging is the descent of the brow. An ideal brow position for a man is straight, giving them a more squared-off forehead and hooded eyes. The lateral brow should be positioned above the eyesocket on females, and directly over the eye bone on males. This placement creates an open, airy, awake and youthful appearance.
Various ways can be used to lift or correct the brow. By relaxing the muscle that lowers the brow, Botox® can be used to elevate the brows in mild cases of brow sagging. Alternatives to surgery include radiofrequency called Thermage and ultrasound, sometimes called Ultherapy.
Both open and endoscopic procedures are generally available. A scalp incision is made from one ear to the other ear and excess scalp tissue is removed to elevate the brow. There is the possibility that this approach alters the hairline and leaves permanent scarring in the open treatment.
A Better Option
Plastic surgeons prefer endoscopic browlifts for their minimally invasive approach. Endoscopic browlifts use much shorter incisions to lift the brow. Hairlines will not be distorted by endoscopic browlifts, and scars will be small. These minimally invasive procedures are done in the office setting and are a very safe alternative. They require less downtime and quicker recovery and results. If you want to avoid the complications of a more open, traditional browlift surgery, this is a great option for you.
Seek Out the Experts
Seek a board-certified plastic surgeon for all your cosmetic skin needs. They are the experts in the anti-aging process, with years of experience in their field. If you want to look your best, not your tired, worn-out worst, remember help is just a call away.
Contact Dr. Maia at Maia Plastic Surgery in Northern VA, Maryland and Washington D.C. for all your skin rejuvenation needs.
Posted on behalf of Maia Plastic Surgery
8100 Boone Boulevard Suite 730 Tysons Corner
Tysons, VA 22182
5530 Wisconsin Ave # 1208
Chevy Chase, MD 20815